Read on to see the following boiler maintenance myths busted:
Modern boilers are so reliable that they don't need any maintenance
Regular boiler servicing is a waste of time and money
Modern boilers are so safe they can be completely ignored until they stop working
During really cold weather it's easy to get a boiler engineer to drop everything and come quickly to solve an easily avoidable emergency repair after a boiler breakdown.
Do you really think the myths above can possibly be true? No. They are all just myths!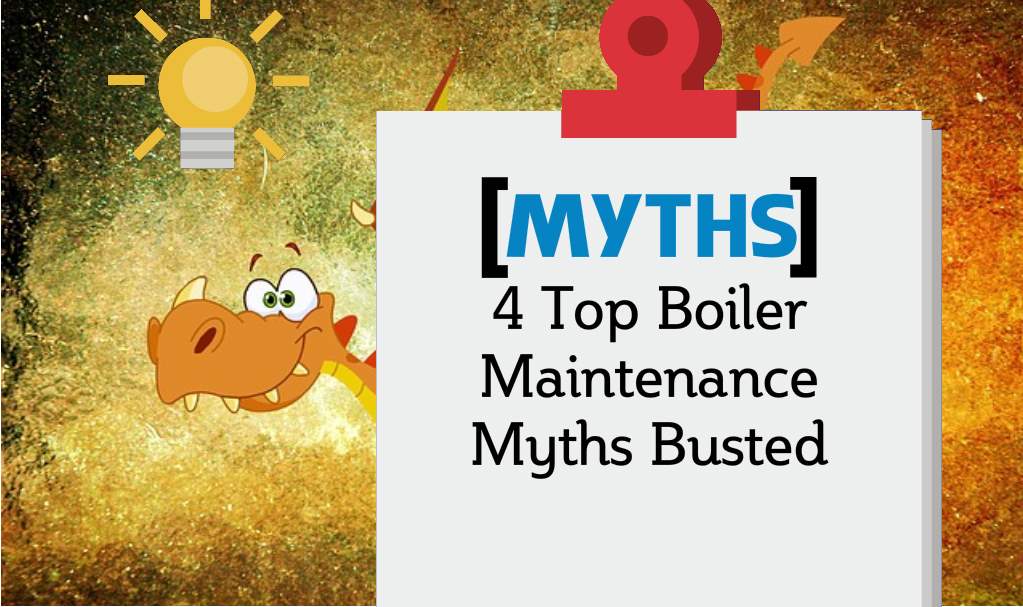 Perhaps the most important thing to remember with regard to boiler maintenance is to have the appliance serviced regularly. There is just no getting away from the fact that regular boiler maintenance is essential to keep your boiler running smoothly when you really need it. A boiler/ central heating system that is working just fine throughout the year, will be much more likely to fail when the really cold weather starts. That's because until the cold weather the system will not be running for such long periods at full heat demand.
Cold weather is so demanding on central heating systems that, quite suddenly they can stop working, and you are left with a freezing cold home. Just try to get a plumber to come to mend a boiler system during that cold weather. Believe me, they are in huge demand and it's not easy. And, just ordering them more money isn't usually the answer either!
The plumbing experts we know put it like this; "Commercial boiler maintenance is the regular servicing of boilers on a regular basis in a proactive manner to assist reduces downtime. Just like a car, boiler maintenance is critical to guarantee you can benefit from all of the available features when you need them and without breakdowns."
Although installation is expensive, luckily boiler maintenance is not.
Boiler maintenance and servicing is typically carried out by plumbers and all natural-gas-powered boilers must only be worked on by Gas Safe engineers, as a matter of law throughout the UK. It involves thorough gas safety checks, general inspection and testing. Like cars, the latest models are starting to have diagnostics built-in to indicate when wear is present and parts maybe need replacement before they fail.
At the annual boiler servicing the important part is the opening up of the boiler casing allowing inspection, and during cleaning, worn and lifetime expired components can easily be seen by the expert boiler maintenance engineer. The most crucial reason why you must carry out regular boiler repair is the risk of carbon monoxide, which is always checked during servicing. Worn or leaking components can then be replaced, or a new boiler installed before the system stops working, or becomes dangerous.
Despite massive advances in boiler design and efficiency in recent years, this work is still needed. Some say it is even more essential due to the added complexity of modern boiler designs, to ensure that your boiler is in a reliable and efficient condition.
It is no exaggeration to say that as a homeowner, having effective boiler maintenance is critical to your property safety and efficiency. One of the essential aspects of boiler maintenance is to check the water level and pressure in the boiler itself. Even if you said you did not care about being left in a cold house at times, investing in regular servicing and boiler maintenance is a cost-effective way to keep your boiler running efficiently at all times. It will reduce the likelihood of an expensive breakdown in future.
The alternative to annual boiler servicing is recourse to one-time boiler repair. By that, we mean simply a call for a heating professional to come into your home to investigate and repair the problem with your boiler.
The most obvious sign that something is not right with your boiler and you may need boiler repair is that suddenly you find that there is no hot water, or heat from the radiators, or both. Some boilers have a higher life expectancy than others, so if your gas boiler repair is going to cost hundreds of pounds and there is a good chance other parts are likely to fail, then it may be worth considering having your gas boiler replaced.
Most plumbers offer boiler repair as one of the core services. Many engineers have been offering it for more than 10 years. A long-built reputation provides the added assurance that they are using the most respected names in the business.
However, talk to them quietly and ask their advice and they will tell you how much better a service they are able to give through regular boiler servicing and preventative maintenance. Furthermore, when you have a continuing boiler servicing and maintenance contract in place there is a hidden benefit. That is that you can have the peace of mind of knowing you are gas-safe, and your boiler man is only a phone call away, should anything unexpected happen.
Maintenance can be one of those home checkups that often slip your mind, although if you are a landlady or landlord, then this is a service that you definitely do not want to forget. As we hinted earlier in this article, in addition, regular boiler maintenance can reduce energy costs and most importantly, detect dangerous carbon monoxide leaks that could be fatal.
In larger buildings, Steam Boiler Maintenance And Inspection can be very sophisticated, including the installation of multiple pre-treatment systems like softeners and de-alkalizers. These need working on by the right professionals to ensure properly optimising them. Not doing this jeopardises many ways in which savings can be made by such heating equipment. Whether the savings are from increased productivity and efficiency, avoiding shutdowns, extended life or accident prevention, boiler maintenance usually saves companies money, one way or another.
Summary – Boiler Maintenance And Operation Myths Busted!
Annual boiler maintenance can help prevent costly breakdowns, make sure your boiler is running efficiently and save you energy costs. It can be important for health and safety to ensure no carbon monoxide or dioxide leaks out into your rooms. Boiler servicing and maintenance can also pick up potential problems so that they can be dealt with early enough to avoid costly repairs in the future.
In this way, boiler servicing and maintenance can save you a substantial amount of money, and it also helps to eliminate the risk of being without hot water or heating on chilly days.