Macerator toilet installation can be provided by our Plumbing Partners throughout Shrewsbury and Shropshire in applications when there is no sewer drain to connect to, or as in the case of basements, the sewer is above the toilet. There are suppliers in Shropshire, and the best known brand of macerator toilets is Saniflow, who's products we review lower down this page.
Why Install a Macerator Toilet, What is it, and How Does a Macerating Toilet Installation Work?
A macerating toilet system allows for a toilet to be installed below and/or at some distance away from a home's main waste pipe, or soil stack. A macerating toilet shreds and liquefies the waste so it can be easily carried out to the waste line via a relatively small pipe. While macerating toilets have special installation requirements that differ from ordinary toilets, they are not impossible to install for most homeowners.
The macerator is a tank that sits behind the toilet itself. Your toilet feeds directly into the macerator, which processes the waste and wastewater and evacuates and it through a discharge pipe with the aid of an electric pump.
The macerator can also serve other bathroom fixtures, such as a sink or shower, but can serve only one toilet. In many cases, the tank and its plumbing are all visible in the bathroom, but they don't have to be. The tank can be installed in the wall behind the toilet. This requires a longer extension piece to connect the toilet. It also requires that you install a removable wall panel behind the toilet, so you can reach the tank for repairs if needed. via rvsani-con
There are some scenarios where connecting your bathroom, en-suite or cloakroom to the conventional household drainage system is just not financially feasible or even possible, especially if the sewer level is higher than that of the room. This is where macerators come into their own and offer a solution to counteract this tricky situation. For many years [in Shrewsbury and Shropshire there have been stockists] for a wide range of macerators from the biggest and most reputable bathroom brands including Grundfos, Saniflo and Hydrolux. These quality designs ensure that your waste is disposed of effectively and hygienically without any attention being drawn to the unit itself.
Positioning & Sizing a Macerating Toilet
Anything to do with waste is not usually something people want to talk or hear about, let alone see.
Therefore it's essential that the unit you buy can be stored in a position which is out of the normal line of site in order to prevent unwanted attention. Many Shrewsbury and Shropshire installers opt to fit the macerator directly behind the toilet as this is one of the most inconspicuous places to house the unit, but sometimes there may not be enough room.
This is when sizing comes into play as you'll have to find somewhere else to locate it and the dimensions of the unit will have a considerable impact upon where it can be positioned. Whilst the height isn't usually an issue, depth and width should be of high priority and one of the things you need to pay attention to. The size may also have an impact on connections, so make sure you leave enough room to safely connect the required pipework to dispose of waste. via www.ebay.co.uk
Making an Exception to the Building Regulations when Installing and Using a Macerator Toilet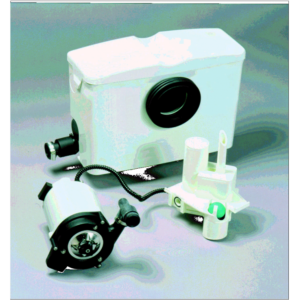 Ordinarily a toilet (wc suite) is positioned next to the main sewage pipe for the building to ease the removal of waste matter directly from the property. The building regulations specify that the sewage pipe must pass vertically immediately from the wc to the sewers.
A sewage pipe is rather large though, and in situations where it is not possible to place a bathroom immediately over the existing pipe, it is often not appropriate to add an additional pipe to the property as it will invariably need to pass through at least one room, and the floor at ground level will need to be pulled up to locate the sewer. In these circumstances a macerator unit allows for the inclusion of a toilet. via tileandbathservice.com
Examples of Shrewsbury and Shropshire Macerator Toilet Use
If you are thinking about installing a new downstairs toilet or an en-suite in a loft conversion, then you may wonder if your current plumbing is going to be able to handle the extra sewerage. You may find that you cannot get the correct fall for the waste pipe to the new installation or that the disruption to the rest of the house would be too great.
In this case a macerator can be a great way to install a toilet without having to do lots of expensive plumbing work.
It may allow you to put in a toilet under your stairs or add an en-suite to a bedroom even when these areas are on the other side of the house to your waste pipe. It is also useful in situations where your waste is having to leave the house against gravity – for example from a basement. via ditchingsuburbia.com
Give Me the Nitty Gritty Details – What Goes on Inside a Macerator Toilet Installation
Faeces and toilet paper are pumped out of the bowl into a chamber equipped with an impeller with stainless steel blades. The turbine grinds the matter up into very fine particles, and at the same time it pumps the slurry into the discharge pipe. The water level in the bowl is adjusted automatically at the end of each cycle to eliminate all risk of odours. The motor and macerator are housed in the porcelain unit. A control keypad is used to trigger the flushing cycle, in the economy or normal mode. Last but not least, SANIMARIN macerator toilets are not chemical toilets!
* Low water consumption: even if the SANIMARIN uses seawater, it is important for the boat's autonomy to send only a small quantity of water into the Black Water Tank during each flushing cycle. The SANIMARIN consumes 1.2 l for the economical cycle and 2.2 l for the normal cycle. With a manually operated toilet, consumption is much higher, because there is no way of controlling the quantities used. via thisoldhouse.com
No External Water Tank is Needed for a Macerator Toilet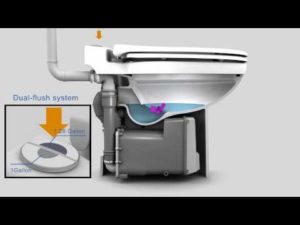 The Macerator Toilet installation has no external water tank as the flushing mechanism is built in and is totally electric. After use, one presses a pneumatic button on top of the bowl, this activates a timer and a solenoid valve in order to fill and wash the sides of the bowl. The motor starts and the waste and paper are sucked inside, where it is macerated and pumped away. The motor stops after approximately 15 seconds and the timer programs the refill of the bowl with fresh water.
It has no external water tank as the flushing mechanism is built in and is totally electric. After use, one presses a pneumatic button on top of the bowl, this activates a timer and a solenoid valve in order to fill and wash the sides of the bowl.
The motor starts and the waste and paper are sucked inside, where it is macerated and pumped away. The motor stops after approximately 15 seconds and the timer programs the refill of the bowl with fresh water. via plumbingcodeviolations.blogspot.com
Where to Add a Macerator Toilet
Macerating Toilet installations and Sewage Pumping Systems are often a good choice for the installation of a bathroom in a basement or, other location where gravity drainage is not possible. These macerating systems installations range in capability from a half bath with just a toilet and lavatory sink up to systems that can handle even a washing machine that is drained to a laundry tub first.
In the past waste systems that could not drain by gravity were limited to ejector pits where the installation involved cutting the concrete floor, installing and ejector pit and pump in the ground below the floor and trenching the associated drain pipes below the floor to the pit. The ejector pit and pump remains the most desirable method and provides the highest value but there are many circumstances where tanks below grade become to expensive or risky to install such as high groundwater where compromising the floor makes a flooding risk or, ledge below the foundation makes excavation for a pit impossible or, expensive. via diy.stackexchange.com
The Key to Every Macerator Toilet Installation – The High Speed Rotational Blade
Plumbing systems are reliant on gravity to move fluids from one point to another however there are times when you can't rely on gravity and need to pump these fluids in a particular direction. Macerators installations work by changing waste solids into liquids using a high speed rotational blade and then pumps this waste into the drainage system in the normal manner. They are a great solution when wanting to create another bathroom and the existing soil and vent pipe is on another wall. We have a wide range of macerators for sale on our website with a great choice of brands and power options available. via www.landlordzone.co.uk
A Macerator Toilet System Review
The Ascent II macerating toilet installation systems, from Liberty Pumps, allows plumbing professionals to add a bathroom anywhere.
Perfect for bathroom additions and remodeling without breaking concrete floors, the Ascent II features a 1.28 GPF high efficiency toilet and can pump up to 25' vertically and 150′ horizontally through a 1″ discharge pipe. The high quality toilets – available in round front and elongated, have improved flush performance and carry the WaterSense® mark.
Both models feature insulated tanks to eliminate sweating. The Ascent II is Code Compliant and meets ADA standards, ANSI 117.1 and the new 1.28 gallon per flush requirement. The toilet seat is included.
QuickFlip™ discharge and vent connectors allow for horizontal or vertical pipe connections. Simply unscrew the connector and rotate 180 degrees for optional connection. Heavy-duty connectors are PVC solvent weld type. 1″ discharge with integral check valve and 1-1/2″ vent. via www.rona.ca
Saniflo as Market Leader in Macerator Toilets
Saniflo is a market lead in this field and a recognised brand in the UK. Manufacturing for more than 50 years, they invented the macerator installation and lead the market in terms of supply, design and innovation with huge investment in research and development to utilise the very latest technologies.
The Gas Centre Limited stocks Saniflo products which are available for purchase over our trade counters at Solihull and Stratford upon Avon. As an approved stockist we offer a diverse range which are available at very competitive prices. via ukplumbersforums.co.uk
Problems with Macerator Toilet Systems
The motor can become jammed if a foreign object is dropped into a macerator toilet. Saniflo blockages, in common with other macerator toilets, can be caused by hand wipes, synthetic materials, sanitary towels or tampax being accidentally dropped into the toilet. These items cannot be broken down by the macerator blades and will cause unpleasant water to back -up through the toilet, sink, bidet or shower.
A common cause of leakage is that the toilet has been flushed continuously following the pump not turning on. This causes water to rise above the macerator pump with nowhere to go. via naturalhandyman.com
9 Colliford Close, Priorslee,
Telford, Shropshire, TF2 9RZ
We serve the following Shropshire postcodes:
ST20, SY1, SY10, SY11, SY12, SY13, SY15, SY2,
SY22, SY3, SY4, SY5, SY6, SY7, SY9, TF1, TF10,
TF11, TF12, TF13, TF2, TF3, TF4, TF5, TF6, TF7,
TF8, TF9, WV15, WV16, WV7