"My Boiler Stopped Working!" Sooner or later, all central heating boilers get old and eventually stop working, so we thought we would write about what to do if a boiler stopped working, and what this can mean in terms of the needed repairs, servicing and replacement.
Develop a Newfound Respect for those Metal Boxes Called Boilers
Quite often, the unsung hero of any home is the domestic boiler. It plays an almost invisible role in our lives, producing hot water and heating on demand, whenever we need it. They come in all shapes and sizes, some even sporting hi-tech interfaces that can communicate with you through an app on your phone. However, it still remains one of those functional areas of the household that we regularly take for granted – that is, until something goes wrong. If you've ever suffered the misfortune of having to endure a winter evening without warm radiators or a choice of water temperatures, you'll soon develop a newfound respect for these unassuming metal boxes that live in the airing cupboard. At Quote Beating Plumbing and Heating we fully understand the panic caused when a boiler suddenly goes on the blink.
Our 3 Point Checklist to be Applied to Shrewsbury and all Shropshire, Telford and Wrekin Call Outs Where Appropriate
Usually most boilers are relatively simple to fix depending on the age of the appliance and how well it has been serviced. What we would normally do is give people a three point checklist just before they call out the heating technician – which would be:
Is there power to the appliance, has the fuse spur been knocked off? This can especially happen when the boiler's installed in a confined space, such as an airing cupboard.
Are the external controls, er, asking for heat, is your programmer on, is your room thermostat switched up? And then finally, we ask,
Have you got gas to the appliance, has the meter been knocked? If you've got a prepayment meter, have you got sufficient credit on that meter?
Most of all, make sure that your boiler has really stopped working, because something else may be wrong. It could be as simple as someone having knocked a fuse switch off accidentally.
The Biggest Problem When a Boiler Has Stopped Working is Obsolescence
The biggest problem we do have is with older appliances when they break down, if, er, manufacturers no longer supply parts for that boiler, er, even the most simple mechanical repair can result in replacing that appliance." There are many options on the market, which at first glance can seem overwhelming.
Selecting a New Boiler – The 3 types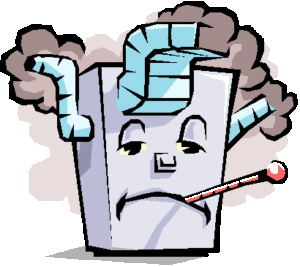 But, if your boiler does need replacing, in reality you only have three different types to choose from.
Number one. Conventional boilers have a traditional heating mechanism and a separate cylinder to store the hot water. They need a cold water tank in the loft to refill the cylinder and also another tank to help maintain the pressure in the radiators. They're good if you have frequently used, multiple bathrooms or an older style radiator system requiring low water pressure.
Number two. System boilers, on the other hand, are a more modern alternative, combining more of the heating components within the boiler itself. They still require a cylinder to store hot water but you can choose a pressurised cylinder which eradicates the need for separate cold water tanks.
Number three. The biggest space saver is the Combi boiler type, which doesn't require any separate tanks as it takes water directly from the mains supply and provide unlimited instant hot water. The downside, however, is that they can struggle with large or high demand households so tend to suit smaller properties and apartments. They can also be expensive to install if you're converting from an older system.
The boiler that's right for you really depends on your situation and your budget. "The cheapest option would be a like for like swap as this just involves changing one boiler for the new unit.
Boiler Stopped Working – New Boiler Costs Including for Installation
Prices for such systems vary from between £1800 to £3000. A modern 'system' boiler and pressurised cylinder would be the ideal choice for a larger dwelling with multiple bathrooms and high hot water demand. Prices for this type of system range from around £5000 for the most basic, to upwards of £15,000 for "state of the art" systems."
The other factor to consider is the impact a boilers quality and condition can have when listing a property for sale on the market.
Most buyers, when viewing properties, will usually make some kind of enquiry as to the state of the current boiler.
It's question we get asked time and time again from people viewing properties and there are good reasons for that, with the cost of replacing a boiler or a central heating system potentially running into the thousands. Many people view the good working order of the boiler and the central heating system, er, to be a good general measure of how well the property has been looked after by the current owners.
Most people will take those costs into consideration when making an offer on a property and so as an estate agent we think it's always worthwhile having your boiler serviced prior to listing the property and of course sharing that service history with the buyer.
A Installing New Boiler Can Help Sell Your Home
Obviously, having a brand new boiler or central heating system can also be a great selling point. If you're a buyer and you've got any concerns about the costs of repairing or replacing the heating system, don't forget to raise those with your agent. At Quote Beating we're always here to help and we have access to a whole network of high quality local Shropshire, Shrewsbury and Telford area boiler suppliers, enabling us to give you the further advice you may need for any situation that could occur with your boiler and heating system.
As found on Youtube
If you need a new boiler you could do worse than a Worcester…