A common request in the UK is ideas for modern bedroom designs for small rooms. Making the best of small bedrooms is an ever more popular topic. Beautiful new homes are being built each year now in the UK in increasing numbers.
But, a common feature is that although well-designed and equipped, the rooms can be quite small. In this article we will show you no matter how small these bedrooms might be they can still be stylish, and be great living spaces.
Our bedroom is our personal space. When we are at home, most of the time spent is in the bedroom. A bedroom should be cosy and comfortable. Just putting a bed and a wardrobe is not everything now. We want our bedrooms to reflect our personality, style and elegance. People are ready to spend a good amount of money to make their bedrooms look every bit stylish and beautiful.
However, we have a misconception with small bedrooms. We feel that there is nothing much we can do with a small bedroom. That's not true! You can make your small bedroom as chic and glamorous as any big bedrooms.
Below are some of the ideas to make your small bedroom look comfortable and stylish. Read them (or view are video which is next!) and we'd be delighted to read your comments on these tips on modern bedroom designs for small rooms.
If you wish to view this video on YouTube click here.
How to Treat Colour in Small Bedroom Design
1. Play with colours – It is a known fact that light colours make your room look brighter and bigger while dark colours make your room look darker and smaller. But that doesn't mean that you have to go all white or only with light colours. Play with your favourite colours to give your room a stylish twist. Paint one side of your wall with a bright colour and create texture, match or contrast the colour of the wall with curtains, bed sheets, pillows and cushions, or use wallpaper on just one wall. Many wonderful modern bedroom designs for small rooms use this colour technique.
Bed Selection for Small Sleeping Spaces
2. Comfortable bed – The most important furniture in a bedroom is without a doubt, a bed. Before buying a bed, take into consideration the size of your room. If the bedroom is for children, go for a bunk bed. Avoid beds with bulky headboard, many stores sell modern bedroom designs for small rooms in smaller sizes, within their ranges.
Go for a simple one, as every little space counts. Also make sure that you choose a mattress that matches your bed. Place the bed closer to one side of the wall and avoid placing it in the middle of the room.
Small Bedroom Storage Basics
3. Storage – Storage space can be great feature of modern bedroom designs for small rooms. Space to hold your clothes, and bedding, is another important factor to consider for small bedrooms. Buy beds that have storage space. Some beds have the drawer system while some have hydraulic equipment allowing them to be raised effortlessly, to reveal a large storage space beneath the mattress. If you do feel that hydraulic mechanisms are difficult to open, go for drawer divans. Drawers are convenient and easy to operate. If there is limited space to pull the drawers, then go for the hydraulic ones which lift the bed to reveal the space.
Build in a unit within the wall for wardrobe and storage to save space. Alcove, floating wall or a wall niche can be a good idea to put up photo frames, plants, laptop, study lamp, books and other decorative items that you would like in your room.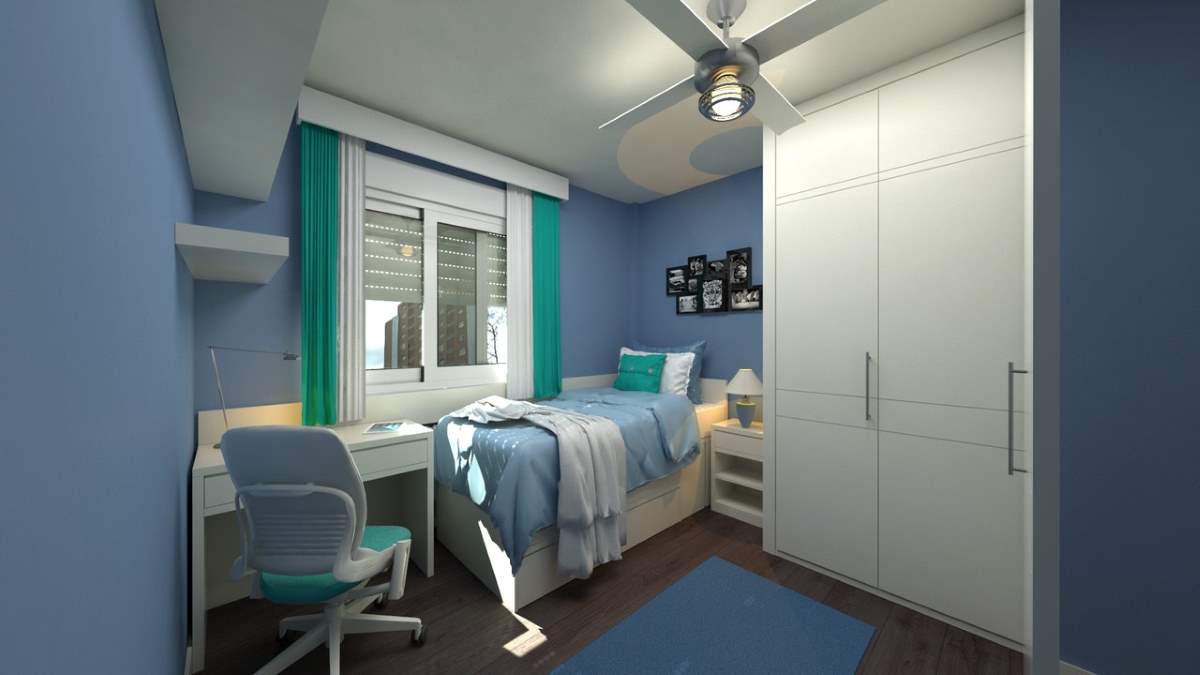 Using a Bedroom Mirror to Create the Effect of Larger Room
4. Full size mirror – A full size mirror will create illusion of a large room. Place this mirror opposite a window to reflect more light and space in the room.
Small Bedroom Ideas of Lighting Design
5. Lights – You can play with different kinds of lamps like chandeliers and hanging head lamps to give your room a stylish look. However, keep in mind that you would require brighter light for reading and dim light when you tuck yourself in for a good night sleep.
Improving the Utility of Bedroom Space for Reading and Homework
6. Reading space – A table and chair will use up a lot of space. Go for a table unit that is built in within the wall. You can pull it out when you need them and place it back when it's not required. The built-in wall table is ideal for children to do their home work and studies. All you need is a comfortable chair that can be stacked in when not in use.
Conclusions on Modern Bedroom Designs for Small Rooms
I am sure these ideas will definitely be of great help for your bedrooms. Don't hesitate to take risks and try different styles.
Mix and match colours, be smart while buying furniture. Avoid too many things on the floor, and try to incorporate everything within the wall.
Even if you want to place a TV in your bedroom, fit it on the wall than placing it on a table. Go for a good contrast or matching carpet for your floor.
Let the room bring out your personality and style while being cosy and comfortable.
Tags: Design Of Small Bedroom Space, Small Bedroom Cozy Design, Small Bedroom Design, Small Bedroom Design Idea, Small Bedroom Design Interior, Small Bedroom Design Solutions, Small Bedroom Design Tips