Are You Seeking Info About the UK Plumbing Business "Victorian Plumbing, if so Scroll Down the Page for Info." – if not, read on below.
There are two reasons for your landing on this page either you:
are looking for design inspiration for a bathroom or kitchen and wish to find inspiration from indoor plumbing designs of the Victorian era in the UK, and bathroom history in the 1800s, or
b) want to get information about the UK business Victorian Plumbing which despite its name is actually a general plumbing goods shop chain and an online store. Which is at the bottom of this page.
Why Real Victorian Plumbing is Rare to Find and its Styles and Features so Sought After Today?
Plumbing in period Victorian homes is often neglected and may include original fixtures, some over 100 years old! If you own a Victorian home it is possible to maintain the feel of your home's original design while replacing old or leaky fixtures by by choosing plumbing supplies from a Victorian plumbing fixtures collection. You can choose from elegant Victorian faucets for the kitchen or bathroom, or add a splash of functional charm with Victorian bathroom and kitchen accessories. via TrustPilot
So, with that in mind, now consider the driving forces of that age, to understand just how revolutionary a period for our civilisation the plumbing in Victorian houses and Bathroom history in the 1800s was.
Most Victorian houses have either been knocked down and demolished to make way for later buildings providing greater housing density, and even where the houses have survived they have been modernised several times over since their original plumbing fixtures and fittings were installed.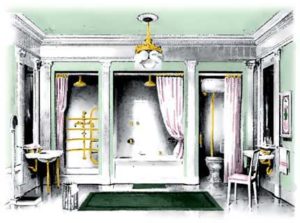 Victoriana was very badly depleted after Queen Victoria's era, and the first world war, when the society of the time became much more focused on the plight of the returning soldiers. there was a lack of jobs, and a huge need to build new houses for them. So the styles which became popular after Victoria's era rapidly became much more functional and less ornate.The once popular gothic styles in house plumbing fittings gave way to shiny chrome taps and valves of for example, the art-deco style. Subsequently to that, came the 2nd World War, and once again house styles and plumbing changed to more utilitarian styles.
Victorian period bathrooms and indoor plumbing in the Victorian era in general also included the universal use of lead pipes. From the 1960s onward the risk to human health and especially to the healthy development of children caused by lead ingestion from the use of lead pipes, became scientifically proven. This mean that even in those homes where the owners wished to preserve the original Victorian fittings, they were frequently removed at the same time as the house's plumbing systems of the 1880s and subsequently, replaced with alternative non-toxic pipe materials.
This is sad because the late Victorians and the Edwardians lived through a domestic revolution. Theirs was a bold and exciting age of innovation, groundbreaking discoveries and dramatic scientific changes, many of which altered life at home in profound ways – including some that were terrible and unforeseen, writes historian Dr Suzannah Lipscomb.
Much of their ingenuity was a response to the challenges of living in the newly booming cities – in 100 years, the urban population of Britain had leapt from two million in 1800 to 20 million at the turn of the 20th Century. By 1850, London was the biggest city the world had ever seen, and such enormous concentrations of people posed brand new problems of feeding, watering and housing the masses. via reviewcentre.com
Victorian Plumbing the Stores and Online Shop
Victorian Plumbing are a leading online bathroom retailer, based in Liverpool. They have come a long way from their humble beginnings, and they are now one of the largest online retailers of branded and in-house bathrooms in the UK.
Over the last few years, the bathroom has become the room to decorate in the house, and now along side the perfect kitchen, homeowners are looking for that perfect bathroom to show off to the neighbours. If you pair the right bathroom suite with the right fittings and accessories, the perfect look isn't that far-off. via www.bizdb.co.uk
The company was founded in 1999 in Formby, Merseyside, UK. The company traded under the name Victorian Plumbing before up until 27th September 2000 when it became Victorian Plumbing Ltd. The MD MARK RADCLIFFE built the company from fairly modest beginnings. Namely his fathers garden shed. He soon became a custom to his new found wealth and success and promptly became an arrogant and self righteous prick. Races cars in his spare time ( in an average manner…) but likes to believe otherwise.
Victorian Plumbing was founded by Mr George Radcliffe and his son Mark Radcliffe. As a family-run business, the company specialised in refurbishing old Victorian baths and traditional bathroom products for exclusive bathroom showrooms in London, UK. via www.bailii.org
Victorian Plumbing is now recognised as a leading plumbing hub which sells plumbing products and accessories ranging from antique to modern bathroom furniture including taps, showers and cast iron baths (Victorian Originals). Victorian Plumbing also offers high quality vanity units, electric showers, bathroom suites and several other accessories at very affordable prices. Most of the products are in the stock and are available on the very next day delivery within the UK. Their versatile website provides a plethora of bathroom things which contains electric showers, a complete range of bathroom suites and standalone baths etc. via duedil.com
Conclusion to Our Article on Plumbing in Victorian Houses and Bathroom History in the 1800s, No Least Those Wonderful Victorian Era Bathroom Designs
Are you desperate to bring your avocado bathroom suite up to the 21st century? Maybe you're looking to make your toilet an energy saving one, complete with water-saving taps? Then it sounds like you need some help from Victorian Plumbing – don't be deceived by the antiquated name! And with our discount codes and promotions, you can save on your tub, tiles and more.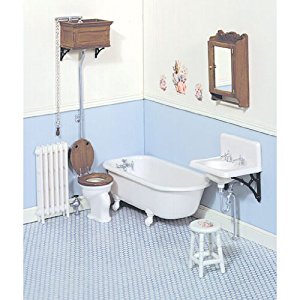 Victorian Plumbing offers everything you could need to refit your bathroom, with both traditional looking products and modern innovation alike. The array of products includes compact cloakroom suits, modern toilets, freestanding bath tubs with ornate legs, heated towel rails, designer radiators and more. via www.myvouchercodes.co.uk