An Introduction to Fueling Agri Pellet Boilers, Wood Pellet Stoves and Biomass Boilers for Salop (Shropshire)
Some of the first questions when considering buying a biomass stove or boiler, are of course:
– what fuel will be used,
– where will the biomass boiler buyer source the biomass fuel, and
– what will it cost to buy the fuel?
Our first video on this page provides an introduction to how pellet stoves and biomass boilers can burn a wide range of fuel pellets. We hope it will help you answer the first question. Unfortunately, we cannot answer the second and third questions above, because they will be very specific to your location, and whether you possess your own agricultural source for one or more of these fuels.
Although we can only offer to install agri pellet boilers, wood pellet stoves and other biomass boilers, through our associated Shropshire plumbing companies, and our readers will need to assess their fuel sources and fuel costs themselves. Nevertheless, we do hope that this article will assist you in your quest to understand your options for switching to renewable energy use. Once the fuel is known the best boilers can be selected for ash production rate, calorific value, etc in the form of agri pellet boilers, wood pellet stoves and other biomass boiler types.
Wood Pellets
Wood pellets are currently the only biomass fuel option for many people, due to their almost universal availability throughout Shropshire, the West Midlands, and indeed throughout the UK. However, there are other options such as grass pellets. The draw-back on their use is that they are quite expensive, especially when those that have access to "waste biomass" may be able to gain their biomass boiler fuel for almost no cost!
There are Many Biomass Boilers Available
The range of biomass boilers is growing. The gallery below illustrates the plethora of designs. We favour a large biomass fuel feed hopper as shown in one of these photos.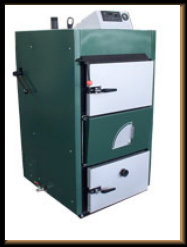 Grass Pellets
Grass pellets can be made from various biomass materials such as Switchgrass, Miscanthus and Hemp Hemp.
Grass pellets are the most comparable to wood pellets in terms of ash content.
in the first video you will can see a Tatano biomass boiler, which can burn a wide range of pellets. The Tatano pellet boiler is made in Italy.
Wood pellets can be made from both softwood and hardwood materials. Contaminated waste wood materials should be avoided for fuel pellets.
The biomass boiler industry produces a wide range of boiler systems which when chosen carefully can successfully burn a wide range of fuel pellet types.
"So, What is the 'Biomass' that can power agri pellet boilers, wood pellet stoves and other biomass boilers"
Many people ask, "What is Biomass?"
Biomass is any organic material, which can be used as a fuel. Straw pellets can be made from wheat, barley or oats. Straw is often regarded as a waste from food production.
The advantages of biomass fuel pellets are that they are much cheaper than premium wood pellets.
Reed canary grass has to be harvested regularly, and can be processed into grass pellets.
Switchgrass is very popular in the US for grass pellet processing. Miscanthus is widely promoted in the UK and Europe for fuel pellets.
Paper and Cardboard Waste
Paper and cardboard waste can also be made into pellets for stoves and boilers. We mention this because readers that do not happen to have any connections with agriculture, should not be dismayed!
There is nothing wrong with using paper and cardboard waste to fuel biomass boilers, and if you have a business that generates paper and cardboard waste, you may be sitting on an almost free biomass fuel source which is worth investigating further.
Biomass Boiler Controls
All pellet stoves and boilers have control panels. The control panel can adjust the combustion within the pellet stove.
You can control aspects such as pellet feed rate into biomass boiler. You can also control the temperature of the fire and the fan speed of the pellet boiler.
Achieving the Burn – High and Low Ash Biomass Fuels
The wood pellets, agri pellets, and other biomass pellets burn well.
Wood pellets and pellets in general, produce virtually no smoke during combustion.
A fan is used to provide forced air which provides a high combustion efficiency.
The pellet boiler uses a forced fed burn pot to burn high ash content fuels.
If you review the range of pellet stoves on the market, only a few use this design.
Harman pellet stoves also use this design of forced pellet feed burn pot.
Due to the additional cost many pellet stove manufacturers use the cheaper drop down burn pot design. A drop down burn pot can only burn low ash fuels like premium wood pellets.
If you want to heat your home as cheaply as possible you need a pellet stove or boiler with a forced feed burn pot design.
There are other pellet stoves besides Harman that offer a forced fed burn pot, but you will have to do your research to find them.
You will only be able to burn grass pellets with a forced fed burn pot to remove the additional ash.
In the future, hemp grass pellets (the video presenter predicts) will replace wood pellets as the dominant pellet stove and biomass boiler fuel.
Therefore, we recommend that you will want to purchase a pellet burner which will be able to burn other fuels besides just wood pellets.
This biomass boiler (see video) provides all the heating and hot water for our farm house.
Daily Cleaning for Agri Pellet Boilers, Wood Pellet Stoves and Biomass Boilers
Cleaning frequency depends on how much ash is produced and that depends on the pellet fuel used.
Usually it takes just a few minutes each day to clean the ash from the pellet boiler. via Youtube
Agri Pellet Boilers
The product you see behind me is MultiBio boiler 30 kW for wood and non-wood biomass, manufactured in the Czech Republic, and available for ordering from the AliBaba website.
We are proud to be one of the few (if not the only one) exhibitors here in Nitra, to hold the certificate "E" for burning plant based fuels.
For example residues from refining of cereals, various kinds of plant pellets – sunflower, canola, mustard seeds etc. The burner can combust even a small coal.
MultiBio boiler with our innovative burner can combust very cheap fuel (from 70 Euro per ton ), which is its great advantage.
There is truly a very wide range of fuels which our customers can use.
The fundamental difference of our technical solutions is that fuel caking does not affect the burning process and burner consequently rolls the ashes out.
A boiler with MultiBio burner produces very low emissions. When you look at the roof of the car, where the chimney is, you can see that we are one of the few boilers at this fair which does not produce smoke.
During the last few years, we tried various burners from different producers and different countries such as Italy, and Germany, but we've faced the same problem.
Burners, while burning agricultural pellets were developing clinkers which then use to clog standard boilers .
Only our MultiBio Burner does not have this issue and can easily handle fuel clinkers. By doing that, the boiler produces the maximum amount of energy which could be harvested from a biomass.
At our own premises, we operate a 200 kW burner which is heating an area of some 2500 square meters and this particular burner successfully burns any residues from agricultural production, whether they are left over from corn pellets, agro (or agri) pellets of straw or hay.
We can honestly confirm that we are absolutely satisfied with this burner. As found on Youtube
Contact us by phoning [phone] now!
Please Note: All claims for boiler performance etc., are the responsibility of the organisations which produced the respective videos shown on this page. Neither the author of this website or our associated companies has any connection with the companies which produced the videos on this page.